March 26, 2020
 
Dear Jesus Is Lord Church USA Family and Friends,
 
The decision to suspend all in-person worship and gatherings is an effort to assist in halting the spread of the coronavirus (COVID-19).  This change certainly creates a new set of challenges for all of us.  We really are building the bridge as we are walking across it. One new challenge we are facing is addressing ministry needs in situations that are different from our traditional ways of doing ministry.  
 
We want you to know that all in-person meetings are either postponed or being held virtually through Facebook as we follow the advice of the Center for Disease Control (CDC).  We have cancelled ALL in-person gatherings including Worship Services, Life Group Gatherings, Prayer Meetings, Trainings until further notice.  We will monitor the CDC's recommendations and will let you know when it's appropriate to gather in person for worship once again.
During this unprecedented time of a global pandemic, the Church is more important than ever. Each church and ministry have a unique opportunity to serve as channels of grace, mercy, and love, as we do what Christ has commissioned us to do – to spread the Gospel at such a critical time as this. (Matthew 28:18-20)
As difficult as it is to suspend in-person worship and to practice social distancing, it is necessary to do so to protect the larger community and therefore save lives. As we hear the news of increasing cases of infection throughout our nation, it becomes more apparent that these prevention measures will not end quickly. Thus, churches need to plan creative ways to worship and share the good news. We give thanks for the many other ways we can connect while being physically apart. The CHURCH has never been the buildings in which we worship. We aim to connect with our members and with each other in as many ways as we can. Our church leaders are trying to develop a plan for our church to care for the community while practicing social distancing.

We are strongly encouraging Christian stewardship especially during these times, making every effort to support your church's financial obligations. We urge you to be faithful in giving and wise in spending.  For this reason, our JIL USA has established different ways of an online giving available to all our congregations. I give thanks for the innovative ways that you are adapting to this new reality, which thankfully, will not last forever. Please know that you are prayed for daily. You are not alone. Let us put our trust in God, our refuge and strength and ever-present help in times of trouble (Psalm 46:1). This is not the time to fear (1Tim 1:7) but to trust the God who promised that He will be our shield and our protection (Psalm 91:4).

Lastly, let us all be one in Christ as we join our hearts together in prayer to stop this global pandemic (Matthew 18:19).

STAY INFORMED. STAY SAFE. WATCH AND PRAY.

God bless,

Pastor Cris Jose
JIL Churches in USA Updates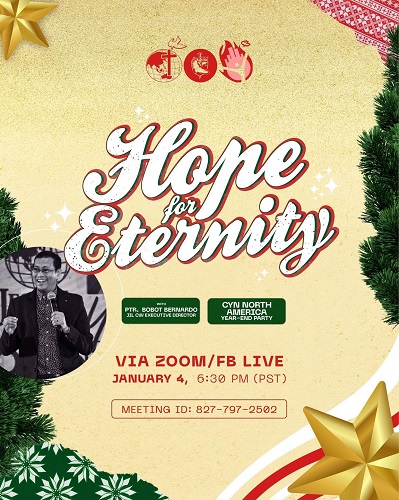 Jesus Is Lord Church USA Chapter
The Jesus Is Lord Church is born from the very heart of GOD.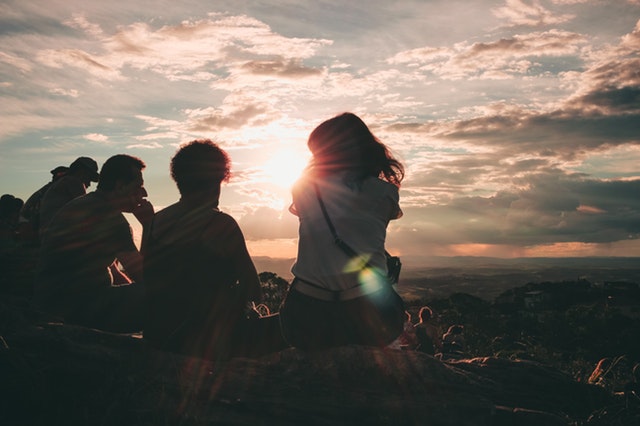 To bring all peoples to the kingdom of the living God regardless of race, status, belief and religious affiliations through the saving, healing, delivering, and transforming power of the Lord Jesus Christ.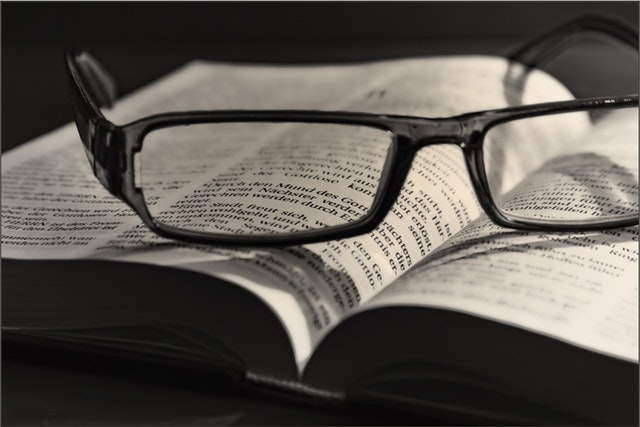 A glorious church evangelizing and discipling Filipinos and all the peoples of the world through teaching, preaching and living-out the full-Gospel of the Lord Jesus Christ.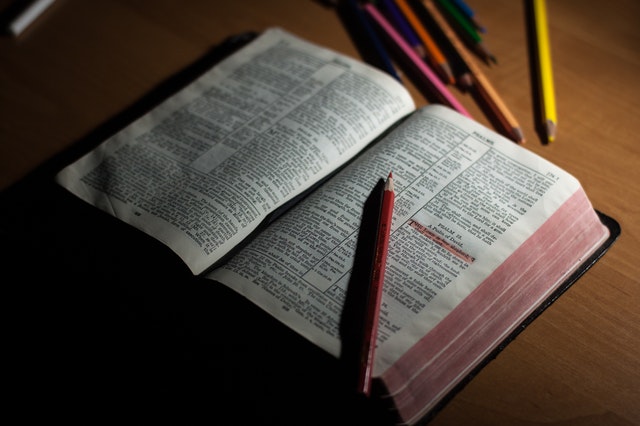 Passionate Love for GOD
Love and Compassion for Others
Integrity
Faithfulness
Excellence
The Declaration of Faith consists of biblically founded doctrines and beliefs that the JILCW is more than willing to live and die for. These are the major doctrines that serve as the foundation of the distinctives of the Church. Furthermore, these doctrines are the bases of all spiritual and theological principles that guide all operations, activities, policies and programs of the Church. The Jesus Is Lord Church (Worldwide) believes on the following major doctrines:
9 Therefore GOD exalted Him to the highest place and gave Him the name that is above every name, 10 that at the Name of JESUS every knee should bow, in heaven and on earth and under the earth, 11 and every tongue acknowledge that JESUS CHRIST is LORD, to the glory of GOD the Father."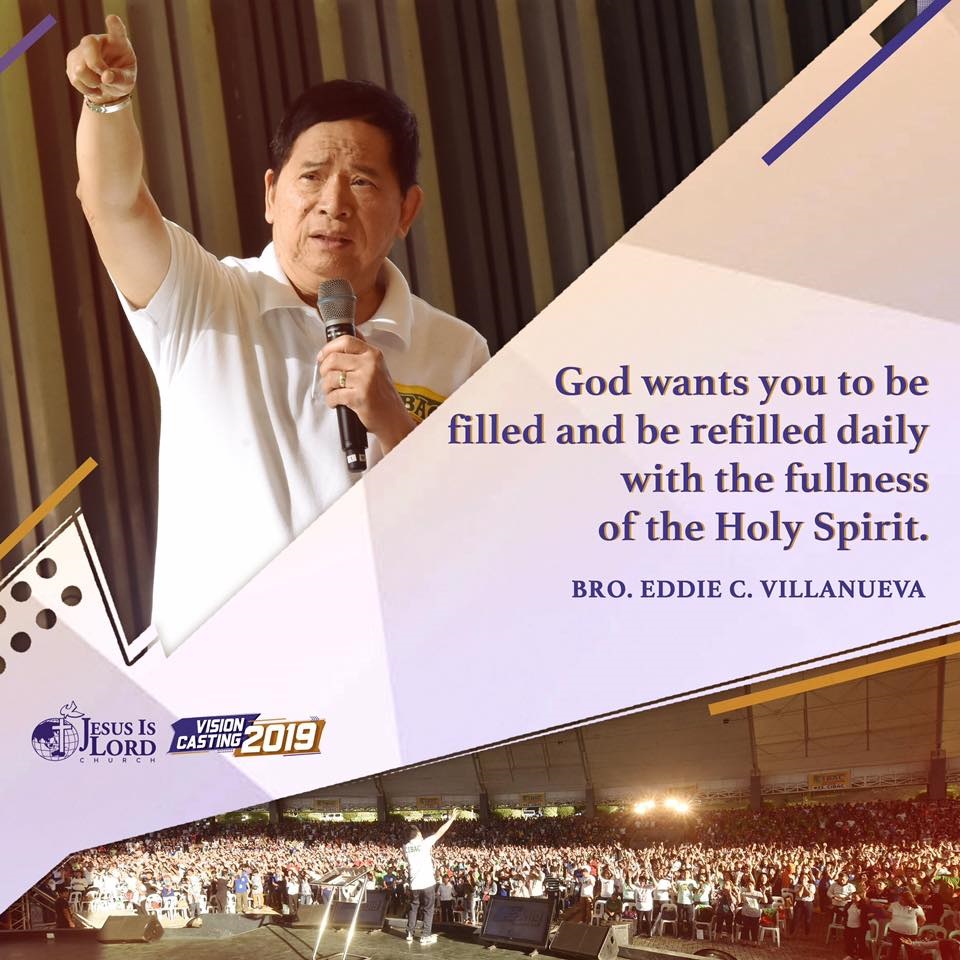 THE MAN, HIS MESSAGE AND THE MINISTRY
From a communist-atheist to one of the most powerful preachers of God's Word in the world today… From a radical activist to the founder-pastor of one of the largest Christ-centered, Bible-based, full-gospel churches in the world… From a battle-scarred street parliamentarian to one of the most respected Christian leaders in the Philippines whose spiritual counsel is sought after by high-ranking officials and distinguished leaders of the nation… From a persecuted "small, country preacher' to a world-renown radio-TV evangelist, prophet and apostle whose vision and mission is to see the nations of the world evangelized and transformed by the same Gospel that changed his life.
This in a capsule captures the exciting life story of Eddie Villanueva, fondly called Bro. Eddie or Bishop Eddie.
Yet to all who did receive him, to those who believed in his name, he gave the right to become children of God