Pastor Crisanto J. Jose is the Church Planting Pastor of JIL San Francisco. He has been in the Ministry for 26 years now as a full time Pastor. He pioneered the JIL Church Nueva Ecija, Philippines which is now on its 25th year of fruitful ministry. He also served as the Regional Pastor of JIL Hong Kong, Macau and China, from 2004 to 2008, before he was assigned to San Francisco, USA.
Pastor Cris, as he is fondly called, is a loving husband to Pastor Maria Emiliana A. Joseand a father to three boys, Adriel, Michael Gabriel and Daniel Cris. He and his family is now living in Daly City, California, USA.
JIL UNION CITY, SF
275 Sorendale Recreation
Center, Goodwin St,
Hayward, CA 94544
JIL DALY CITY, SF
6755 Mission St.,
Daly City, CA 94014
JIL SACRAMENTO
7386 Stockton Blvd,
Suite E, Sacramento,
CA 95823
JIL MILPITAS
Adobe Bldg, 713 Wessex
Place, Milpitas, CA 95035
JIL SAN DIEGO
1001 S. Harbison Ave,
National City, CA 91950
JIL MIRA MESA
9715 Carrol Centre Rd.,
Ste 104, San Diego, CA 92126
JIL TEMECULA
41800 Enterprise Circle
South Suite E,
Temecula, CA 92590
JIL RIVERSIDE
6700 Indiana Ave.,
Suite 200, Riverside,
CA 92506
JIL LOS ANGELES,
2808 W. Temple St.,
2nd Flr, Los Angeles,
CA 90026
JIL LONG BEACH
20411 South Susana Rd.,
Long Beach, CA 90810
JIL ONTARIO
11255 Central Avenue,
Otario, CA 91762
JIL OXNARD
1609 Pacific Avenue,
Ste 613, Oxnard, CA 93033
JIL LAS VEGAS
37 Marion Drive,
Las Vegas, NV 89110
JIL HENDERSON
100 North Pecos Rd, Suite A,
Henderson, NV 89074
JIL NORTH LV
3251 West Craig Rd, Suite 140,
North Las Vegas, NV 89032
JIL NORTHWEST LV
7822 Eastern Elk St.,
Las Vegas, NV 89149
JIL RENO
2295 S. Virginia St.,
Reno NV 89502
JIL HAWAII
2200 Kamehameha Highway,
96819 Honolulu, Hawaii
JIL SAIPAN
P.O. BOX 8131 SVRB Saipan
MP 96950; Tuturan Drive,
San Vicente, Saipan
JIL GUAM
2/F Daily Plaza Bldg.,
136 Kayen Chando Dededo,
Guam 96929
JIL MESA AZ
2815 South Alma Shool Rd.,
STE 116, Mesa,
Arizona 85210
JIL PHOENIX
3302 N. 35TH Avenue,
Phoenix, AZ 85017
JIL SEATTLE
22617 76TH Ave W STE 102,
Edmonds, WA 98026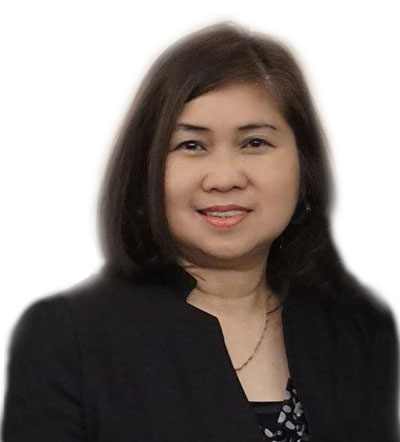 Genoveva (Van) Berin Torres is currently the Regional Pastor for the East USA Region in JIL Americas.
Ptr. Van is married to Bro. Randy Torres, and they have four grown children and four grandchildren. Prior to serving full time in the JIL ministry, Ptr. Van worked for 21 years at the World Bank Group as Senior Program Assistant in the Education Unit. She was a BS HRA graduate from the University of the Philippines.
Brief Background:
1993-1995 (JIL Manila)
Sis. Van started in JIL ministry in 1993 through the Young Professional Adults Club (YPAC) in JIL Manila, where she was involved in intercessory prayer and church planting. She also served as a cell group worker in District 5 in Paco, Manila and later as a bible teacher in TUP, Manila after graduating from the Bible Teachers' Training Course in December 1994.
1996-2009 (JIL Virginia)
After migrating to the US in 1995, Sis. Van prayed to attend a JIL Church but did not find any in the East Coast region. As she met other Filipino Christians, her desire to have a JIL Church led her to start a bible study in her home.
August 1996: Pioneered a bible study in her home in Arlington, Virginia
August 1997: The Bible study transitioned into a JIL Virginia Home Church
December 1997: JIL Virginia Church was officially launched, the first JIL Church in East USA
1997-2009: Served in various capacities in JIL Virginia (which became JIL Arlington) – worship leader, treasurer, administration, education, and as a cell group leader and was part of the church management team. Also served as Education Head and JIL 12 Coordinator of JIL Church Arlington, Virginia before being assigned to Rockville MD as an Outreach/Church Coordinator.
JIL TYSONS, VA
2220 Cedar Lane,
Vienna, VA 22182
JIL CHANTILLY, VA
4455 Brookfield Corporate Drive
Ste. 203, Chantilly, VA 20151
JIL FREDERICKSBURG, VA
6050 Plank Rd,
Fredericksburg, VA 22407
JIL WOODBRIDGE, VA
15941 Donald Curtis Dr.
Woodbridge, VA 22191
JIL VA BEACH, VA
228 N Lynnhaven Rd.
#114 Virginia Beach,
VA 23452
JIL NEW YORK, NY
45-14 51st St. Woodside,
NY 11377
JIL JERSEY CITY, NJ
3000 John F Kennedy Blvd.
Ste. 312 Jersey City,
NJ 07306
JIL DUMONT, NJ
85 W Madison Ave. Dumont,
NJ 07628
JIL ROCKVILLE, MD
12410 Washington Ave.
Ste. 201 Rockville,
MD 20852
JIL BALTIMORE, MD
44 Greenwood Ave.
Baltimore, MD 21206
JIL PA
19118 Hwy E Rt 286
Hillsdale, PA 15746
JIL DICKINSON, ND
914 Sorrel Ln Dickinson,
ND 58601
JIL FORT WASHINGTON, MD
10903 Indian head Highway
Ste. 107 Fort Washington,
MD 20744
Check out locations on the map